Emergency Tree Removal Service
Whether you are dealing with the aftermath of a major storm or an unhealthy fallen tree that poses a safety hazard to the public, a structure, a vehicle, or property, you have a situation that should be taken care of by professionals.
We are here to assist you with emergency tree service that includes:
Prompt and professional service
Proper and safe removal of the fallen tree
Tree disposal including stump removal and grinding
Clean up services of fallen branches, broken limbs, tree sections and debris
Because fallen trees pose a serious threat we recommend emergency tree work by professionals that can ensure safe and efficient services.
When you need a tree removed, call Five Star Tree Service to help determine the best course of action, and to take advantage of our emergency services.
Emergency Tree Service
If you have a tree that has already fallen on the roof it may have caused significant damage to your property. These are frequent occurrences during a heavy storm, but you can also be the victim of a fallen tree that is dead or dying. In either case, the weight of a tree is great and should be considered too dangerous to remove or trim as a do-it-yourself project.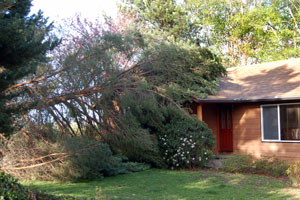 As an emergency tree service we use common processes for removing trees that are close to, or have fallen on structures such as a roof. They start with:
Evaluating the tree and its location
Formulating a plan to remove it
Establishing the safest and most efficient techniques and equipment
And we provide clean up services that always leave the area cleaner than we found it! We encourage you to call us for professional emergency tree removal service with safety as the number one priority!
Emergency Tree Service – We'll Be There When You Need Us!
Just knowing you have an emergency situation that requires professional help to remove one or more trees is overwhelming! But one quick call and we'll be there when you need us!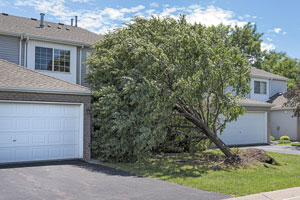 While we are a small company, we are experienced in providing emergency tree removal service with the ability to call on the use of:
Cranes for uprooted trees
Our experience as tree climbers
Bucket trucks
Boom trucks
After we have removed your tree or trees we can also remove the remaining stump or stumps with minimal damage to your yard, and provide clean up services to leave your property in an orderly condition that is free of hazards. Call Five Star Tree Service to have your tree or trees removed in a safe manner. (425) 207-6000 & (253) 256-1315